Blair Atholl Patrol Jamborette
18-29 July 2022
About Blair Atholl 2022
The 38th Scottish International Patrol Jamborette will take place in Blair Atholl from Monday 18th July 2022 until Friday 29th July.
500 Scottish Explorer Scouts will camp alongside Scouts from around the world, working as a dual patrol of 12, in one of six subcamps. There is an exciting programme of activities and the opportunity to form lasting international friendships.
Blair Atholl is open to Scouts and Explorers who are 14 – 17 on the first day of the camp.
Dates
Scottish Staff arrive on Saturday 16th July,
Scottish Scouts arrive on Monday 18th July
Overseas Contingents arrive at camp on Tuesday 19th July.
All Scouts depart on Friday 29st July
All Staff leave on Saturday 30th July.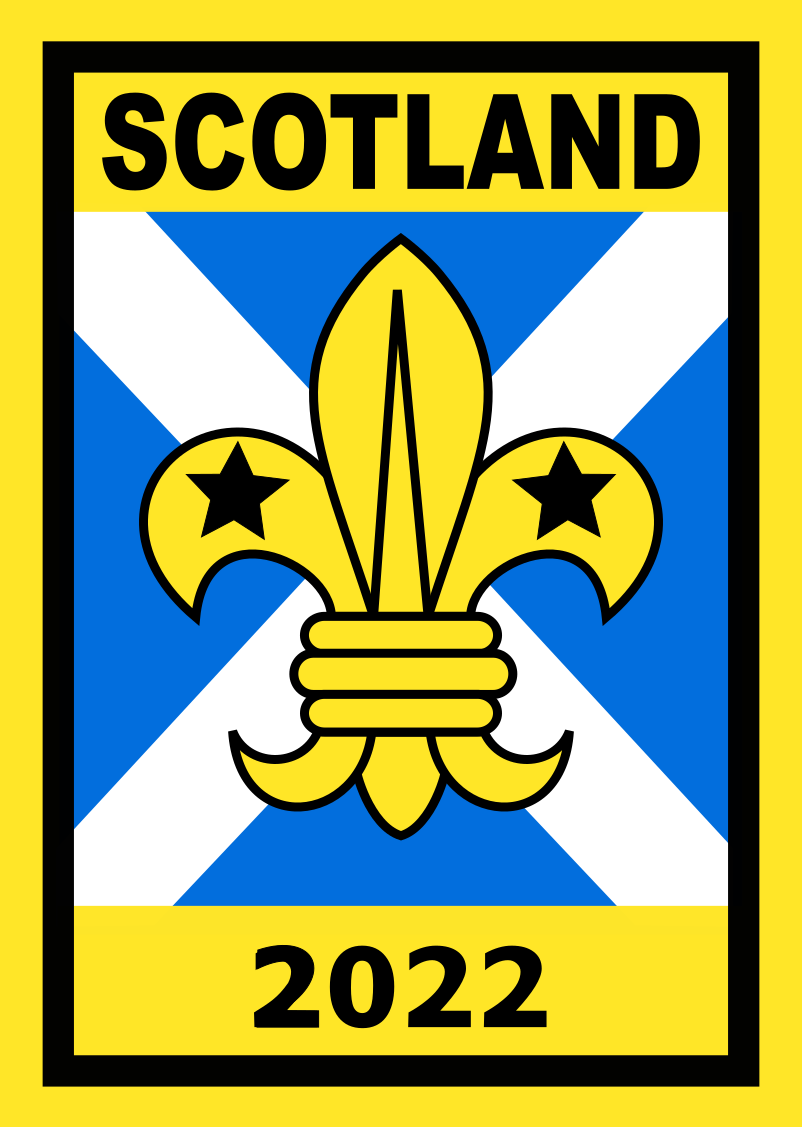 Leaders
There are a large number of Scottish Staff supporting this event. Scottish Staff applications have now closed. Staff costs are £300 for the two week camp.
The number of overseas adult leaders with each patrol should be limited to the minimum number necessary to supervise travel.
Cost and Selection
The camp itself costs £350 per participant for all the activities, catering, evening entertainment etc
The Jamborette is hugely popular and unfortunately not everyone can attend so selection camps have taken place within Scottish regions.  Training weekends are planned over the coming months as patrols prepare for the camp.
Satellite Camp
A Satellite camp adjacent to the main camp will welcome about 550 Scouts & their leaders from around Scotland to take part in the camp over the weekend of 22nd-25th July.
More details about the camp can be found here.  Applications closed on 24th March.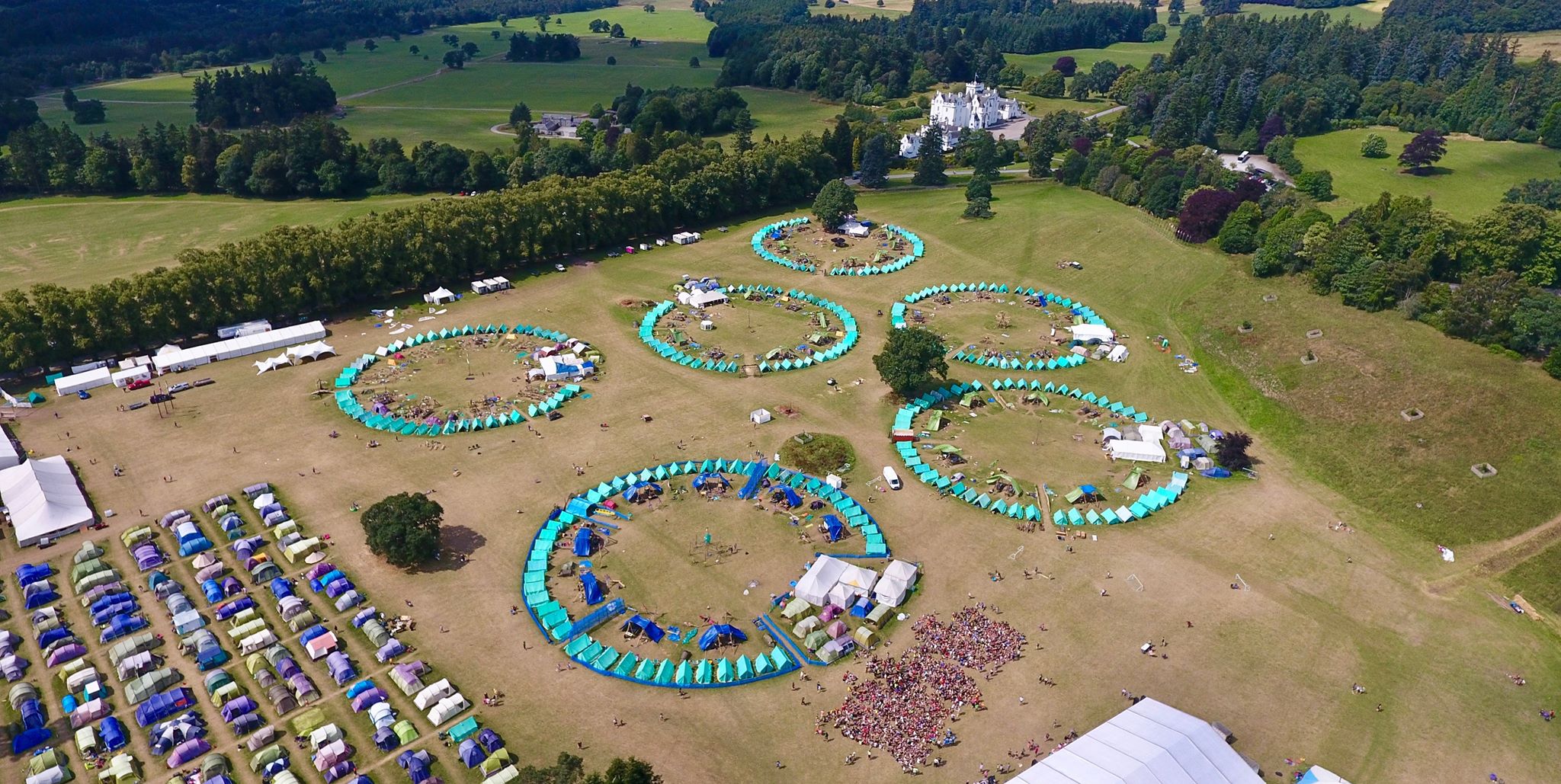 Main Camp Area
The main camp site at Blair Atholl provides support for the six sub camps. Each sub-camp will have 14 patrols. There is also a Staff sub-camp which includes all of the Scottish and overseas Leaders.
A view of the camp site with Blair Castle top right corner and the Kastle in the bottom centre. The six sub-camps are visible in the centre of the photograph.
The central gathering point is "The Kastle" which as a series of Marquees which house the Trading Centre of the camp. providing a Tuck Shop, a Scout Shop and a Newspaper office. The camp produces its own daily newspaper called 'Kastle Kurrents" with pictures from around the site and activities and snippets from the sub-camps. There is also a cafe in the Kastle and provision to gather under canvas should it be raining.
There are also facilities for making telephone calls and an extensive medical support team available at all times should the need arise.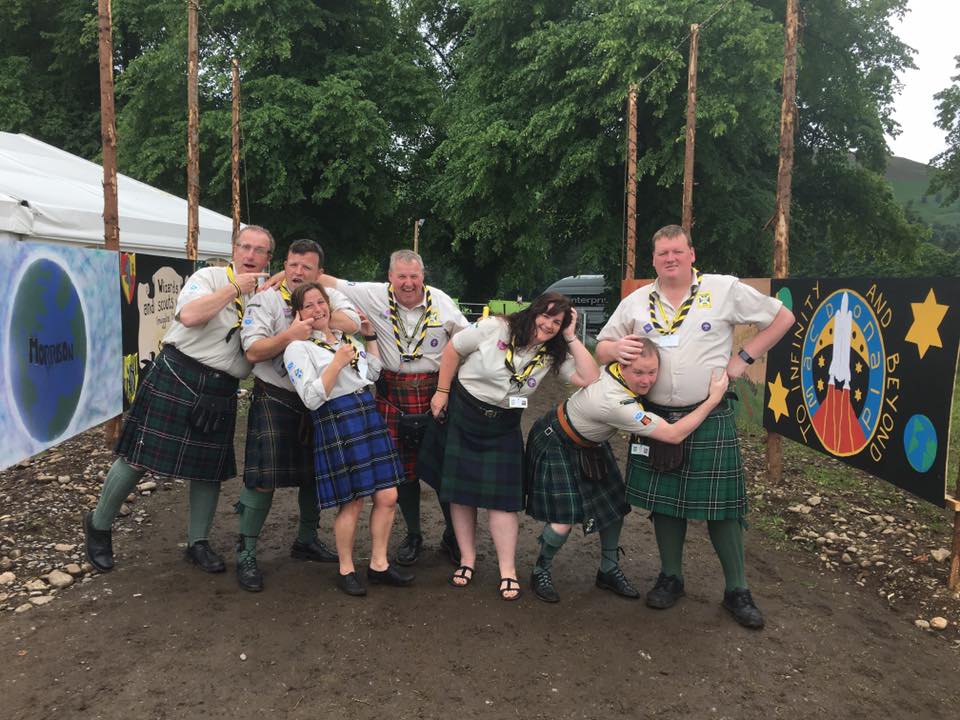 Blair Atholl Subcamp Leaders (2018)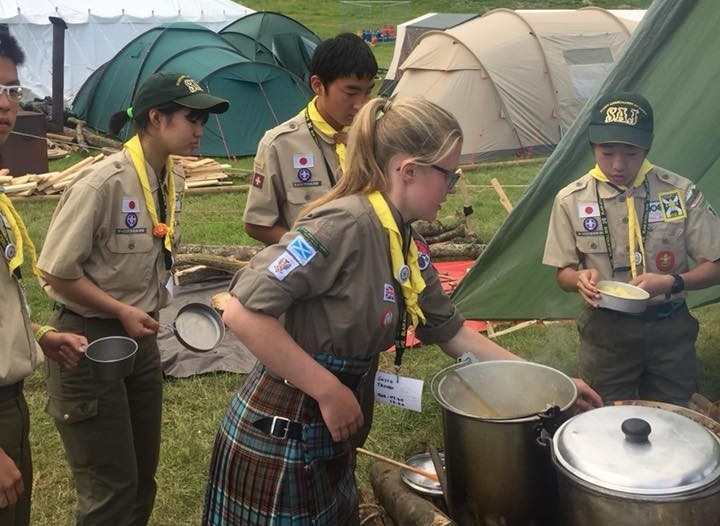 Joint patrols cooking at Blair Atholl
Patrols
A Scottish Patrol consists of up to 6 Scouts, including the Patrol Leader. Patrols are usually a mix of Explorers from different units within a District or Region. As with all Scouting activities, patrols can contain a mix of young people of any gender.
Each International Patrol of up to 6 Scouts will camp with a Scottish Patrol. A Scottish and an overseas patrol operate as one unit. The Scottish Patrol will provide tents and cooking equipment for both patrols. Cooking is done by the combined patrol over wood fires. Dining shelters will be constructed in each patrol site with pioneering timber.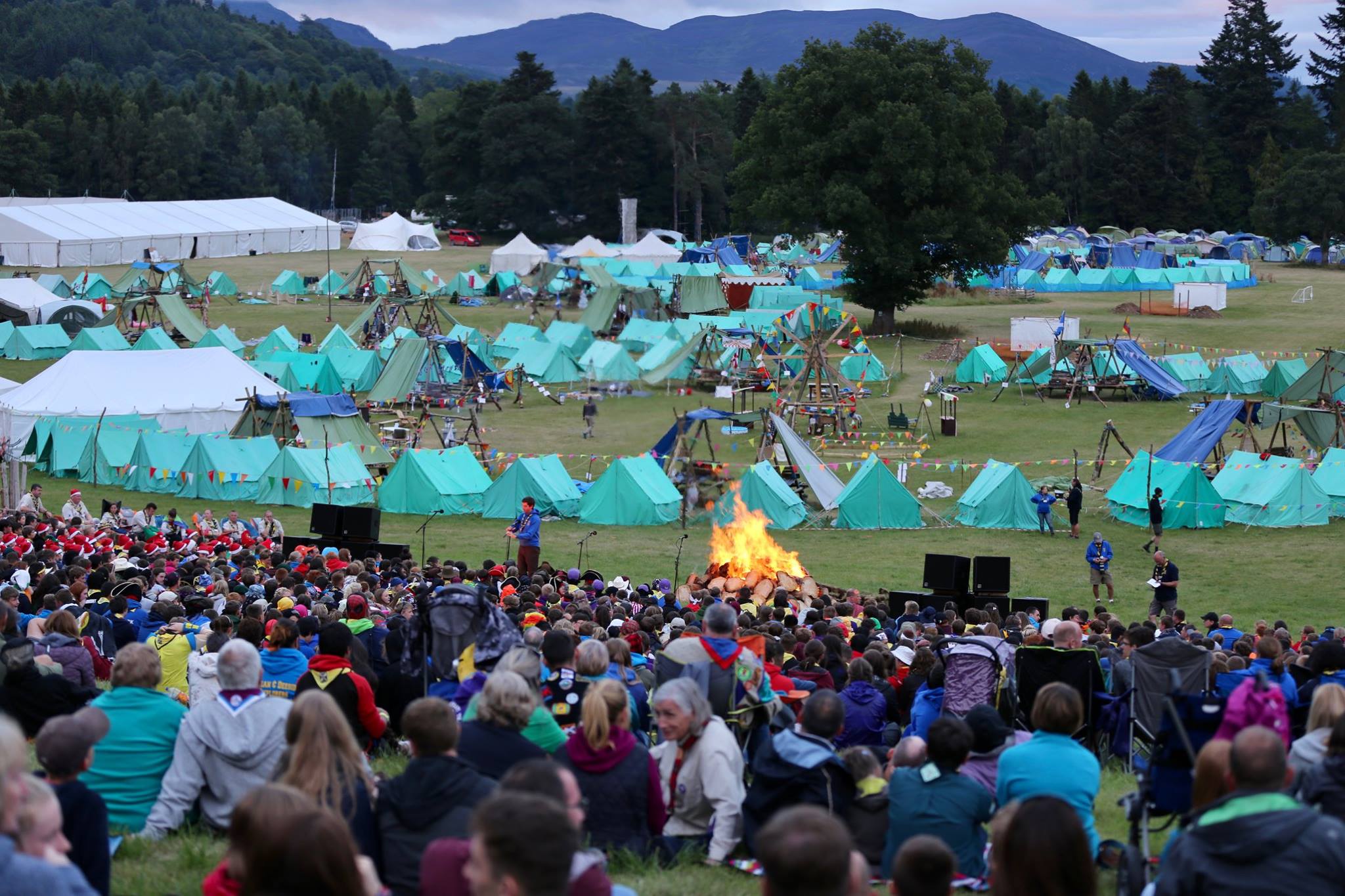 Day Time Activity Programme
The activities below will be on offer at the 2022 Blair Atholl Jamborette.
Adventure Activities
Canyoning
Climbing
Cycle Skills
Gorge Walking
Half-day hike
Mountain biking
Mountain hike
Mountain skills
Overnight rescue
Rafting
Watersports
Basic Activities
Atholl Experience
Bushcraft (man living WITH nature)
Dungeons and Dragons
Heart Start
Team Challenge
International Scout Games
KABoom!
Nature Walk
Ready Steady Cook
Rookie Rangers
The Great Blair Bake Off
Creative Activities
A Taste of Scotland
Blair-AKToR – Blair Atholl Kastle Theatricals of Repute
Craft
Culture Zone
Design and Create
Go Global
iBuild
Kastle Kurrents
Photography
Radio Blair
Samba
Sports Activities
Archery
Bubble football and crate climbing
Cirque de Blair
Cheerleading
Fishing
Lawn Bowls
Martial Arts
Team Sports
Treasure Hunt
Treks and Tours
Blair Castle

Explorer Scout International Trek

Pitlochry Visit
White Cockade
The White Cockade was the badge worn by the followers of Prince Charles Edward Stuart (Bonnie Prince Charlie) during the Jacobite Rebellion of 1745-6. The Marquis of Tullibardine, son of the 1st Duke of Atholl, carried the Prince's standard when he landed at Moidart and gathered the clans at Glenfinnan. The White Cockade which was worn by the Marquis, can be seen in a display cabinet in Blair Castle. The Marquis' brother, Lord George Murray, was the General in charge of the Jacobite army.
Scouts can earn a Cockade badge by successfully completing 12 Activities (all day activities count as 2) and organise and participate in two social activities in the evenings as approved by the Subcamp Leader. In choosing their activities, Scouts must select at least one activity from each of the Activity Zones (Adventure, Basics, Creative, Sport and Treks & Tours). After each activity, the scouts get a sticker to collect to keep track of their progress.
Evenings in the Kastle
2022 Evening Activities have been confirmed!! You can  bring as much or as little fancy dress and accessories as you like.
 Neon Night – Be one of the bright movers and shakers at the opening Disco
Camp Chief's Challenge – Team building with a difference
Busking at the Kastle – Acoustic sessions around the Kastle, bring your instrument and join in, or come along and listen.
Pirate Party at the Kastle – Shiver your timbers at this Pirate themed disco.  Eye patches, wooden legs and swashbuckling ahoy
International Open Mic – An array of talent as contingents take to the stage for a truly international evening of entertainment.
Keilidh in the Kourtyard – Traditional Scottish music and dancing where you will not be able to resist joining in. Fun guaranteed.