Blair Castle
1/2 day Activity (1 Activity Point)
A visit, in uniform, to the castle. Scouts will form three or four parties, each of which will be taken round the Castle by guides from the Jamborette staff. Scouts get free entry to the castle to see the amazing collections of weapons and deer antlers, as well as the other fascinating attractions of this 13th Century Castle and ancestral home of the Duke of Atholl.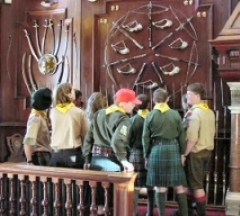 Pitlochry Visit
1/2 day Activity (1 Activity Point)
An opportunity to sightsee and shop in this delightful Victorian town and popular holiday resort, which nestles in the Perthshire Highlands. Whether you are looking for that essential present or memento to take home with you, or you want to sample the delights of that great Scottish delicacy Fish n Chips and a can of Irn Bru – you will enjoy your trip. Assemble at the main gate, in uniform, for your bus to Pitlochry.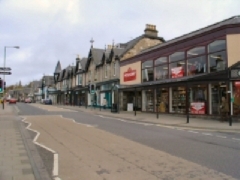 Explorer Scout International Trek
All day Activity (2 Activity Points)
A popular activity at recent Blair Atholl Jamborettes, for those aged 16 and 17. 24 hours of fun and adventure starts with 3 afternoon activities around the Atholl Estate including bubble footballs, crate climbing and more! A short trek (6km) up Glen Tilt leads to the overnight site for a BBQ, campfire and a relaxed evening with no Patrol duties. The next morning, wake up slightly later than usual, trek back downhill to the main camp and collect your badge.
This activity counts for two allocations towards the White Cockade, and in addition, all those who complete the Trek will earn the special Blair Atholl Explorer Scout Trek badge as a reminder of their experience. Trek leaves the site early in the afternoon on Wednesday, Friday, Monday and Tuesday, returning the following morning. Assembly details will be confirmed by Subcamp Leader.